2. Tm – Melting Temperature
March 28, 2013
Buy cheap and genuine Windows 7 product key | Windows 7 Ultimate ISO download | Windows 7 Product Key Generator For 32&64 Bits | Windows 7 Product Key Online Store | Windows 7 Ultimate SP1 Product Key Sale | Windows 7 Key | Get Free Newest Windows 7 Product Key | Windows 7 Product Key for 32bit/64bit Updated 2016 | Microsoft Office 2010 Professional Plus 14 serial key dowload | Windows 7 Professional Download ISO Free Download | windows 10 education key windows 10 enterprise mak office 2010 key windows 7 key sale windows 10 home-key windows 10 education windows 10 pro key office 2016 key windows 10 key office 2013 key windows 10 home edition windows 7 key windows 10 activation key
Tm is the melting temperature of the PCR product. Since the DNA helix melts in a temperature range rather that at one very specific temperature, Tm is defined as the temperature at which 50% of the helices are dissocited. Tm is useful for monitoring your PCR reaction because it lets you distinguish between specific and unspecific amplification. Of course it is easy to see if you have dimer formation if you run your PCR products on a gel, but with many samples it soon
becomes tedious. If you program a melting curve into the cycler run, you
will see something similar to this: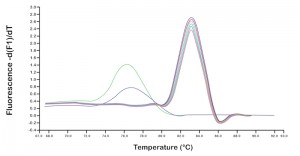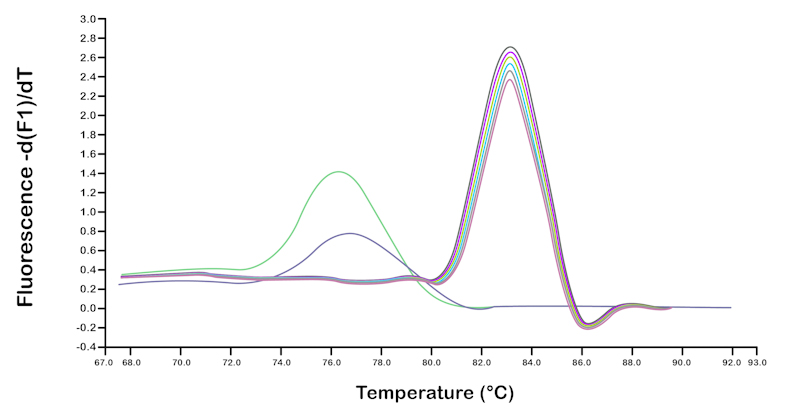 In this run, there are clearly two products: one with a high Tm which is your specific product, and one with a
lower, which is primer dimer formation. If you compare with the amplification curves: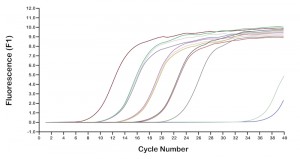 It is easy to see that the two curves representing the reactions which resulted in products with low Tm are also the ones which have the highest cycle numbers. It is not necessarily a problem to observe amplification in your negative controls – the only important thing is that there is sufficient difference in Tm to allow you to clearly distinguish your sample from background. If, however, primer formation is a problem, you might be able to solve it by adding a 4th segment to the protocol. The temperature of the 4th segment is 3 – 5 degrees lower than the Tm of the specific product, and the duration, 3 to 5 sec (temperature transition rate set as per usual). A 4th segment does not really prevent formation of dimers, but their contribution to the total fluorescence is reduced, since they melt and loose fluorescence during this segment. The specific product does not melt, however, since the temperature is lower than Tm.