qPCR instrument: LightCycler®480 II
The LightCycler 480 II instrument is used for performing rapid, accurate polymerase chain reaction (PCR) in combination with real-time, online detection enabling quantification of a target nucleic acid, as well as post-PCR analysis of the amplified nucleic acid by melting curve analysis.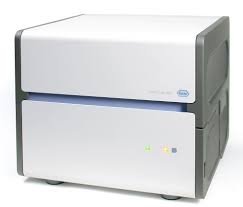 The first model was released in September 2005 by Roche and was another breakthrough in real-time PCR analysis of gene expression and melting curve-based mutation analysis.
The system provides the ideal solution for fast and precise qualitative or quantitative detection of nucleic acids, genotyping, and mutation scanning.
Based on a comprehensive improvement of the Peltier-based technology incorporated in a silver block, the instrument provides extraordinary well-to-well temperature homogeneity and maximized inter-well, inter-cycle reproducibility.
All current probe formats are supported:
SYBR Green I;
ResoLight dye for high-resolution melting;
hydrolysis probes;
HybProbe probes;
SimpleProbe probes;
Product
Retailer

Price

qPCR instrument: LightCycler ® 480


Roche LightCycler® 480 System was relased  in november 2012 at American Society for Human Genetics...

Last update: 20-07-2013 20:21

€30000.00


Get Quote
Related products
Roche LightCycler® 96 System was relased in november 2012 at American Society for Human Genetics annual meeting in San Fransisco. This is a mid-price segment of the market qPCR Machine dedicated for life science research only. Light Cycler 96 by RocheRoche instruments are well known for an user-friendly interface.This platform comes with a redesign software

Read more...

The CFX96 optical reaction module released in may 2008 is a product from BioRad, who is a leading speciality diagnostics company and it's products are recognized as the gold standard for diabetes monitoring and quality control system. The CFX96 has a 96-well optical module for real-time PCR. It includes a CFX manager software, qbase software

Read more...

The Piko Real Real-time PCR system fits labs where space is an issue, offering an exceptionally small footprint this qPCR instrument. It is light enough and ideal for field applications. product of Thermo Scientific the PikoReal has outstanding performance and offers innovative features that includes sample preparation, nucleic acid extraction, DNA/RNA analysis and qPCR assays

Read more...