CFX96 Touch™ Real-time PCR System
The CFX96 optical reaction module released in may 2008 is a product from BioRad, who is a leading speciality diagnostics company and it's products are recognized as the gold standard for diabetes monitoring and quality control system.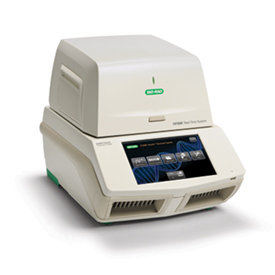 The CFX96 has a 96-well optical module for
real-time PCR
. It includes a CFX manager software, qbase software license, cables, consumables for use with C1000 touch thermal cycler chassis. Key features of the CFX96 system include a long lasting solid-state components with LEDs and photodiodes for reliable results, quick instalation and factory-calibrated optics which enables fast set up, a minimal sample and reagent ussage that offer reliable results obtained with low reaction volumes, a thermal cycler gradient feature and sofware that can send email notification with an attached data file upon run completion allowing up to four instrumesnts that may be controlled by a single computer. The CFX system is the answer to achive a sensitive target detection in single or multiplex assays for a variety of real-time PCR applications in addition to reliable performance and higher throughput options.
Operating manual
Product
Retailer

Price

CFX96™ Optical Reaction Module


The CFX96 optical reaction module released in may 2008 is a product from BioRad, who is a leading speciality...

Last update: 03-09-2013 08:53

€45174.57


BUY NOW